FoxChase Wire Fox Terriers

Current Puppies

 Sire: Ch. FoxChase Ruswood Tin Cup

Dam: Ch. Foxchase Callaway Lady Diablo

pictured on pedigree page

The puppies are 1 day old. Their eyes and ears are closed. Their noses are pink.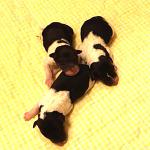 Puppies are1 week old. All are gaining weight nicely and are army crawling to move about the whelping pen. Noses are starting to darken.

Puppies at 2 weeks are starting to walk and eyes are opening. Cooing sounds and a soft bark can be heard occasionally.

Puppies at three weeks are introduced to goats milk and rice cereal. Toe nails have been trimmed for the first time. Puppies are starting climb out of their puppy pen.

Puppies at four weeks are able to move about and explore pen and play area. Their teeth are starting to come through their gums.

Puppies at five weeks are playing together and starting to show interest in small toys. Canned puppy food has been added to their diet.

Puppies at 6 weeks have expanded their play areas and are enjoying romping and playing for long periods of time. Dry food will be offered along with their goats milk and canned food. 

Puppies at 7 weeks have been to the vet for their vaccinations and exams. Playtime has expanded to exploring outside in the beautiful fall weather.